Collection Overview 
Reference Code: MSS001
Title: Flora T. Little film
Date: 1923-1956, undated
Creator(s): Likely Flora T. Little
Extent: 3 linear feet (53 reels of film, approximately 18,884 feet of film)
Languages and Scripts: Materials are in English.
Scope and Content  
This collection contains 53 reels collected and likely filmed in part by Flora T. Little. Of the 53 reels, approximately 43 are footage from Flora's travels and approximately ten are local footage depicting Flora T. Little and Walter S. Little's home, their friends, their cats, their garden, their neighborhood, and their lake trips. The local film includes footage of Bridgewater from the late 1920s onward, including the 1930 Bridgewater 4th of July parade and 1948 Bridgewater "Armistice Day" parade. Some items in this collection may contain outdated, biased, or offensive language or imagery. 
Biographical/Historical Note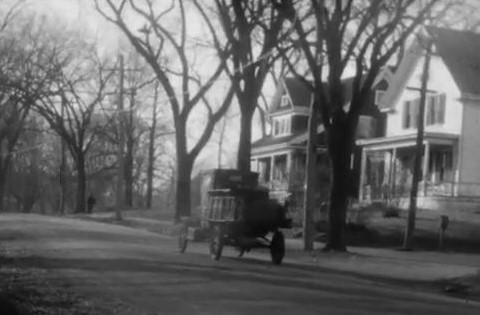 Flora Townsend Little (1875-1967) was educated in the Bridgewater school system. She graduated from the Normal School (now known as Bridgewater State University) in 1895, and the Massachusetts Normal School of Art in 1899. She was an art teacher and supervisor in several schools, and from 1902 to 1910 she was Art Assistant at the Normal School. She also participated in the Ousamequin Club and the Massachusetts Federation of Women's Clubs. She served on the Bridgewater Public Library Board of Trustees as Secretary. She married Walter S. Little in 1902. 
Walter Sweet Little was born in Bridgewater, but graduated from Comer's Commercial School in Boston in 1896. Walter worked as a bookkeeper for the Bridgewater Box Co. from 1891 to 1896. In 1897, he founded the Eastern Grain Co. and served as its President until 1941.
The Littles' home was in Bridgewater, but they also traveled regularly throughout their marriage. Following the death of Walther in 1962, Flora wrote a series of unpublished manuscripts titled A Wreath of Memories, which primarily include stories from their travels.
When Flora died in 1967, she bequeathed half a million dollars to the Town of Bridgewater specifically for library purposes. The Board of Library Trustees used these funds to erect a new building at 15 South Street, just north of the original library (the Memorial Building at 25 South Street).
Sources Used
Flora T. Little. Bridgewater Public Library. (n.d.). Retrieved February 11, 2022, from https://www.bridgewaterpubliclibrary.org/flora-t-little 
Pictorial History: Bridgewater, Massachusetts. (n.d.). Bridgewater Historical Collectors.
Administrative Information  
Preferred Citation 
Item identification. Box #. Flora T. Little film (MSS001). Bridgewater Public Library Archives & Special Collections.
Technical Access
The BWPL does not have the capability to play film in its original format, but patrons may view digitized files. 
How do I access this collection?