Do you have boxes of old photographs in storage?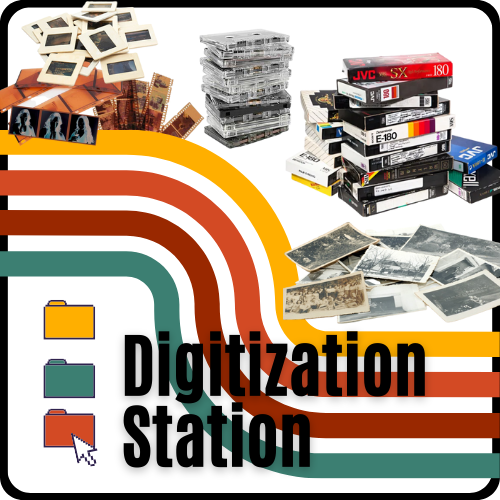 Home movies on VHS? Mixtapes on cassette? Want to convert them to an easily stored and sharable digital format? Preserve your memories with a variety of equipment available for self-directed use (don't worry, we'll help) at the Digitization Station.
Sessions can be booked in 3-hour blocks. Please read the following information before booking a session.
What You Can Digitize:
Photographs
Medium Format Negatives
35mm Negatives
35mm Slides
VHS Tapes
DVDs
Cassette Tapes
Important Notes:
You must book your appointment in advance. If you need training on the equipment, please let us know during booking. 
This is a self-serve workstation and only our Reference Librarian is trained to provide technical support. We will not digitize material for you.
Digitizing videos and audio happens in real time. If your recording is one hour long, it will take one hour to digitize the content.
Manuals are provided at the workstation (on the computer desktop and in a binder) to assist users with basic functionality. Basic computer skills are required.
The library is not responsible for any damage patrons may incur to their personal property when using this workstation.
Come Prepared:
You must supply your own file storage media (e.g., CD/DVD, USB Drive, cloud drive account for upload via internet, etc.) to save your digitized files. The digitization station will be wiped of all data and user activity once your session is over.
Saving files to external devices may take longer than you think, so make sure you leave yourself enough time to transfer all of your files before your session ends.

MP3 files are approx. 1MB per minute
WAV files are 10 MB per minute
Digitized video is 1 MB per second

Feel free to bring your own headphones or use a pair provided by the Library.
Book Your Session Here:

Digitization Station Schedule:
Monday
 
12 PM - 3 PM
Tuesday
 
2 PM - 5 PM
5 PM - 8 PM
Wednesday
 
10 AM - 1 PM
1 PM - 4 PM
Thursday
 
10 AM - 1 PM
1 PM - 4 PM
Friday
 
11 AM - 1 PM
1 PM - 4 PM