May 4 is known as Star Wars Day, a play on the phrase "May the force be with you".   Due to unforeseen circumstances, we had to reschedule our Star Wars program for this month, but have rescheduled it to this summer. Watch our website and Facebook page for the latest events and programs.
While you're here for the program, be sure to check out our children's books based on the Star Wars series.  We will have a display of the books, including our newest purchases.  In the meantime, get caught up on Star Wars...rumor is there might be some trivia!
If you are a comic book fan, there are over 850 Star Wars comics just waiting for you over at Hoopla.  Hoopla is a digital library service that allows you to access ebooks, movies, music, audiobooks, comics and TV shows to enjoy on your computer, tablet or phone.  It's free to access with your Bridgewater Public Library card.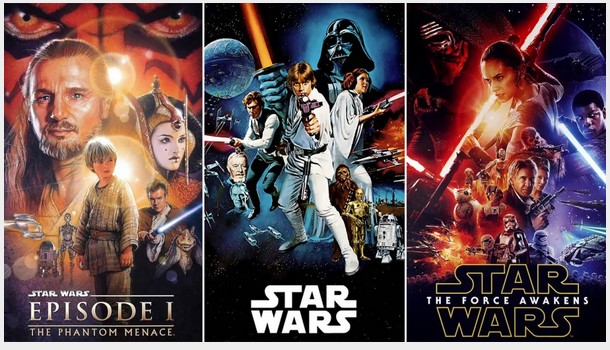 Looking for Star Wars movies?
Here are the Star Wars movies, in order chronologically.  All of them (except for The Mandalorian) are available through the SAILS library network.
Star Wars: Episode I -- The Phantom Menace
Star Wars: Episode II -- Attack of the Clones
Star Wars: Episode III -- Revenge of the Sith (2005)
Solo: A Star Wars Story (2018)
Rogue One: A Star Wars Story (2016)
Star Wars: Episode IV -- A New Hope
Star Wars: Episode V -- The Empire Strikes Back
Star Wars: Episode VI -- Return of the Jedi (1983)
The Mandalorian (2019) (only available on Disney +)
Star Wars: The Force Awakens (2015)
Star Wars: The Last Jedi (2017)
Star Wars: The Rise of Skywalker (2019)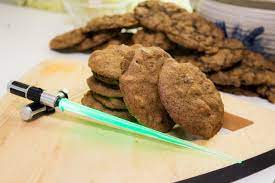 Star Wars snacks:
Here are some easy, kid friendly recipes
Star Wars Lightsabers:  pretzel rods and melted chocolate make this an easy, quick treat.
Star Wars mini pizzas: english muffin pizzas with cheese, pepperoni and olives 
Jabba the hummus: make your own hummus (or scoop out of the container and pretend you did- we won't tell!) 
BB-8 Muddy Buddies chocolate, peanut butter, chex and sugar…how could you go wrong?
Star Wars Jokes:
Why did Anakin cross the road? To get to the dark side!
Which Star Wars character works at a restaurant? Darth Waiter!
How do Ewoks communicate? On their Ewokie-talkies!
What did the Jedi say to the sheep? May the force be with ewe.
What did the lunch lady say to Luke Skywalker? Use the forks Luke.
Where does Jabba eat dinner?  Pizza Hutt