I Love the 80s to Death: A Blockbuster Whodunit Event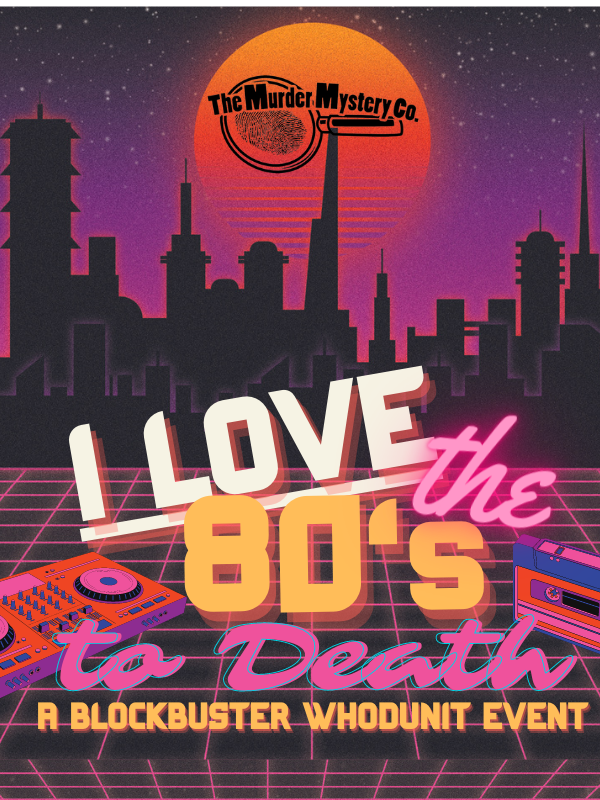 The Murder Mystery Company will be joining us again this summer for a Blockbuster Whodunit event!
About the Event:
A Rockin' Radical Night of Mystery
It's the 80's again, and all of the big names are here for a big concert. Tensions run rampant as backstage secrets spill out into the spotlight with like, totally tragic results! This isn't an episode of Miami Vice! This is like...murder. It's up to you to bust it like a ghost, for sure! Peg your jeans, slouch your socks, flash some neon, put on way too much eyeliner and get that hair up! You are going to solve this crime in style. No time to be Too Shy! You are a Smooth Operator, and you know to listen to those Careless Whispers. It's time to put on your Sunglasses at Night and Relax. Time after time...You will solve the case.
Details:
Event takes place Friday, June 2 at 7 PM at the Library; doors open at 6:30 PM. The show is after library hours; admittance is for show only.
Light refreshments will be served during intermission. 
Tickets go on sale April 1st. Tickets are $15 each, payable by cash or check at the library. First come first serve. Tickets cannot be reserved. Tickets are nonrefundable. If you cannot attend, feel free to give your ticket to someone else. 
Actors might ask for audience interaction so don't be shy! Attendees will be separated into groups and pitted against each other in a race to figure out whodunit! So, bring your whole squad because this event is perfect for the whole family. Oh, and be sure to dress like it's 1985!
Most importantly, we hope you enjoy your night of rockin' mystery at the Bridgewater Public Library.
 
Event Category
Adults
Kids
Teens