Collection Overview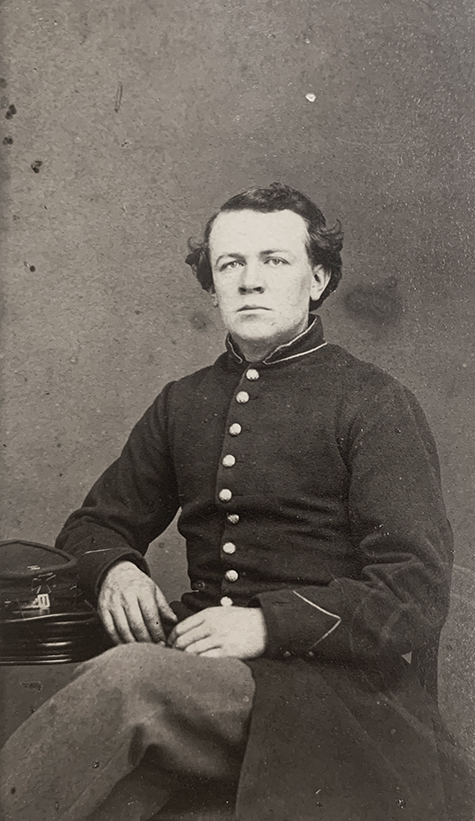 Reference Code: MSS008
Title: Andrew T. Pratt Civil War papers
Date: Approximately 1861-1864
Creator(s):  Andrew T. Pratt; Otis L. Battles, contributor; American Bible Society, publisher 
Extent: Approximately 0.42 linear feet (4 items)
Languages and Scripts: Materials are in English.
Scope and Content  
This collection contains four items relating to Andrew T. Pratt's service in the American Civil War including a photograph of Andrew T. Pratt, a letter and envelope sent to his widow about Pratt's death in 1864, and a New Testament Bible carried by Pratt during his military service. The letter reads: 
Near Petersburg, Va. 
June 25th., 1864,
Mrs. A. T. Pratt, 
Dear Madam: I have bad news to impart to you. Your husband has, doubtless, got through with the sufferings of this life, and gone to join his friends in heaven. Last Wednesday, the 22nd, while his regiment was crossing a field, exposed to a very severe shelling from the enemy, Andrew was struck in the hip and bowels by a fragment of shell, that exploded in his company, and killed three of his comrades, and badly wounded two others, of which latter, Andrew was one. He was carried to the 2nd Corps hospital which being another Corps from ours, we have not learned his fate, but from the nature of his wound, he, probably, did not suffer long. After being wounded, he gave a companion his testament, ambrotypes, and an envelope directed, and requested that they be sent to his wife. He, also, said "Tell my wife, that I hope to meet her in heaven." He was conscious of his near approach to death, although he did not feel much pain at the time, his limbs being, doubtless, paralized. With this letter I send you his testament, pictures, as he requested. During Wednesday, before going into the fight, I observed Andrew, busily engaged in reading his testament (the one I send you) while lying under a tree.
It is hard to lose our friends in the full vigor of manhood, but, thousands today in the north are mourning some dear one slain in this fearful contest. There are but few families, but can sympathize with you in your deep sorrow at the loss you are now called to bear. But we must trust that these precious lives are not sacrificed in vain, and that we may meet them at no distant day, where peace and not war is triumphant. 
Truly, Your sympathizing friend, 
Otis L. Battles
Biographical/Historical Note  
Andrew T. Pratt enlisted in the Union Army and mustered on December 2, 1861. At the time of enlistment his age was 21, his occupation was nailer, and his residence was Wareham, MA. He is also believed to have been married during or before the American Civil War. Andrew Pratt served in Company E of the Thirty-Second Regiment Massachusetts Volunteer Infantry. He was listed as missing on December 13, 1862 in Fredericksburg, VA but was gained on May 17, 1863. He reenlisted on January 1, 1864 and died June 30, 1864 from wounds received on June 22, 1864 at Petersburg, VA. According to a letter written by Otis L. Battles, Andrew T. Pratt was struck by enemy shelling in the hip and bowels while crossing a field with his regiment. 
Otis Lincoln Battles was born in Hingham, MA to Martin and Hannah (Lincoln) Battles on February 20, 1843. He enlisted in the Union Army and mustered December 2, 1861 at which time his occupation was shoemaker. He served as a Private in Company E of the Thirty-Second Regiment Massachusetts Volunteer Infantry until he was mustered out of service on June 29, 1865. He was wounded on June 3, 1864 in Bethesda Church, VA. 
On December 25, 1869, Otis Battles married Emeline L. Flint, daughter of Willard and Charlotte (Stodder) Flint. They had at least six recorded children between 1870 and 1882, all of whom were born in Hingham. Otis lived on Fort Hill Street in Hingham, MA, and died on May 26, 1882 at the age of 39.
Administrative Information  
Preferred Citation 
Item identification. Box #. Andrew T. Pratt Civil War papers (MSS008). Bridgewater Public Library Archives & Special Collections.
Conditions Governing Access 
This collection is open for research. 
How do I access this collection?