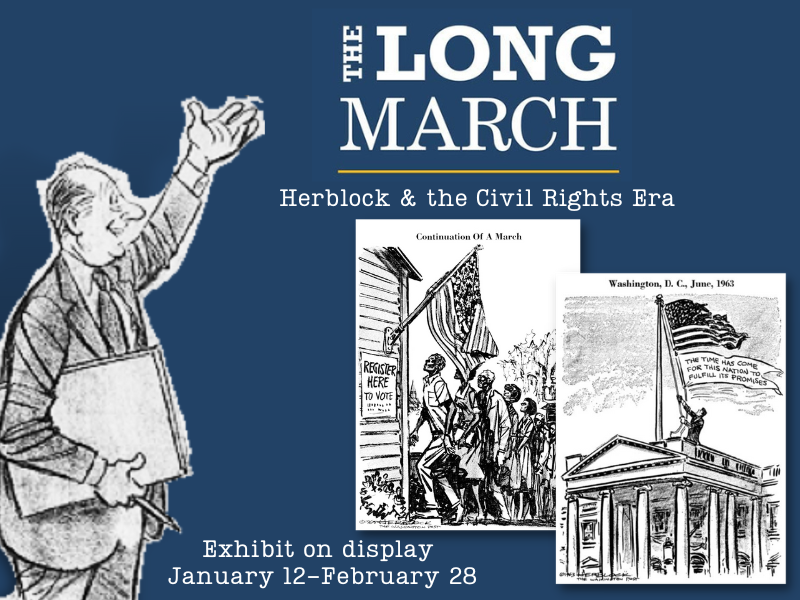 View this exhibit, The Long March: Herblock & The Civil Rights Era on the Library's first floor from January 12-February 28. 
Herb Block (Herblock) is among the world's best known and most admired political cartoonists. Born on October 13, 1909, the native Chicagoan spent his 72-year career fighting against abuses of the powerful. He began his editorial cartooning career at the Chicago Daily News and NEA Service before landing at The Washington Post in 1946. He was the recipient of innumerable awards and honorary degrees, including the Presidential Medal of Freedom, the highest civilian award the government can give. Herb Block was known as a gentle, self-effacing man with a steely resolve to use his work to bring injustices to light.
The Civil Rights Movement was one of Herblock's chief concerns. He illustrated its history and dialogue through all of its growing pains and showed us show who we are as Americans, what we have learned, and what we are still learning about Civil Rights. Looking at Herblock's political cartoons over seven decades we realize he was one of those people that fought long and hard to make us a better people. Herblock's cartoons teach us still and will speak to us about these crucial events in our history through many generations to come.
Learn more about Herblock on the Herb Block Foundation website.