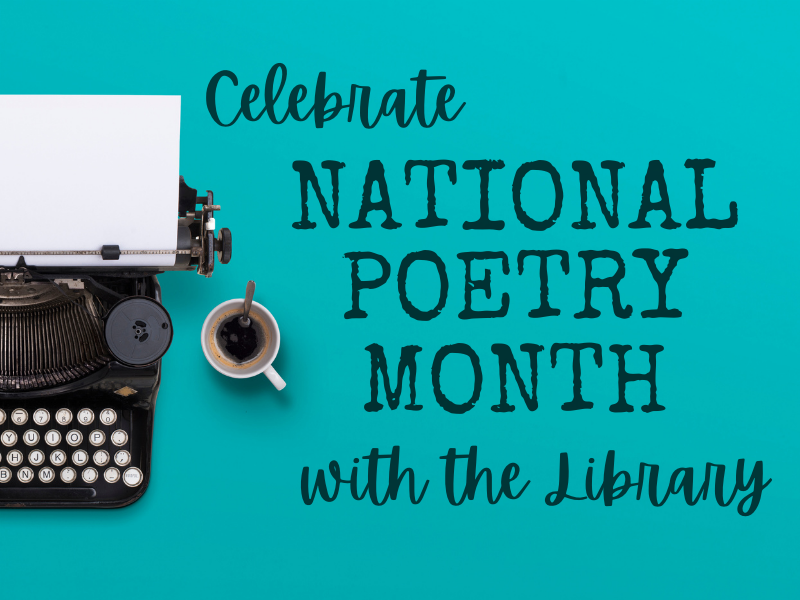 April is National Poetry Month! Here are 15 ways to celebrate poetry, poets, and writing with the Library. 
Check out a poetry movie (or watch one on Hoopla!) from the Library.

Check out a book of poetry (or an ebook!) from the Library.

Write a poem using an origami fortune teller, part of our Origami with Jenny program. Pick up a fortune teller at the library or create your own following Jenny's instructions.

Begin your virtual meetings or classes by reading a poem.

Record a video of yourself reading a poem and share it on social media. 

Write one line of poetry a day, and have a complete poem at the end of the month.

Organize a virtual poetry reading, open mic, or poetry slam with your friends.

Read a Poem-a-Day online, sign up to receive Poem-a-Day in your inbox, or subscribe to the Poem-a-Day podcast to listen to the poems read aloud. 

Email a poem to friends and loved ones on April 29, Poem in Your Pocket Day, or share one on social media using the hashtag #pocketpoem.

Browse Poems for Kids.

Tell a teacher in your life about Teach This Poem, a weekly lesson plan program.

Read and share poems about the environment in honor of Earth Day on April 22.

Participate in the 2021 Dear Poet Project by April 30.

Attend the Poetry & the Creative Mind event, held virtually and for free for the first time ever, on April 29 at 7:30 PM. 

Make a miniature book of poetry using this folding technique.